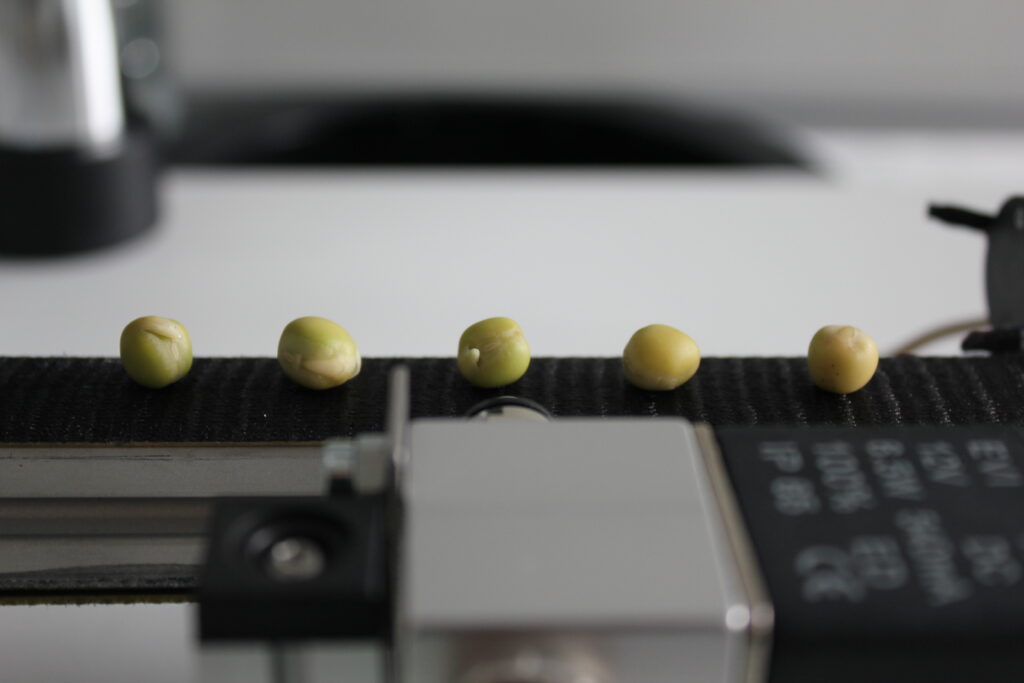 "The good ones go into the pot, the bad ones go into your crop." – that's how the story goes in Cinderella. But who actually decides what's good and bad? And what happens when complex decision-making processes are increasingly automated and delegated to "intelligent" systems?
In Verena Friedrich's installation, visitors encounter an industrial-looking sorting plant. In the so-called "EZ Quality Sorter V2" pea seeds are separated, analyzed, and sorted into good and poor-quality peas.
In training mode, visitors are invited to take a seat at the workstation. Using a feeding mechanism and a conveyor belt, the peas are separated and placed under the microscope for examination. Users are asked to judge the peas according to their quality and enter their selection by pressing a button. If a pea is categorized as "bad," it is sent to the reject bin. If it is categorized as "good," it eventually enters the bin for further processing. Meanwhile, the results of the decision-making processes are recorded by a camera mounted on the microscope. After enough pictures have been collected and training has been completed, the machine automatically continues the selection process based on the previously recorded information.
The "EZ Quality Sorter V2" is part of the ERBSENZÄHLER series, a system consisting of several stations, in which a large quantity of pea seeds are analyzed and sorted. The project explores the increasing quantification of life through mathematical-technical procedures and systems – from counting and sorting to statistics, to computer-aided processes – and the worldview that goes along with it.
Credits / Supported by:
Arts Foundation of Northrhine-Westphalia
Künstlerdorf Schöppingen Foundation